Divorce is never truly painless in the way that getting a flu shot can be. It does not have to be financially ruinous, though. Sometimes, the hardest part of the California divorce process entails getting started with the entire legal process. Depending on your situation, you can go through two types of divorce: contested or uncontested divorce.
When you make up your mind about divorcing your current spouse, you must prepare for possible outcomes of the process. This could cover issues to do with:
Care for minor children/ parenting issues
Division of marital assets, and
Settling of joint bank accounts
To most people, the process of divorce seems lengthy. However, it's not mandatory to hire a lawyer to help with your divorce. You can just reach out to a legal document assistant to help with the entire process (including guidance on the division of marital property). Read on as we explain to you the process of divorce in simple English.
When Does California Divorce Process Start?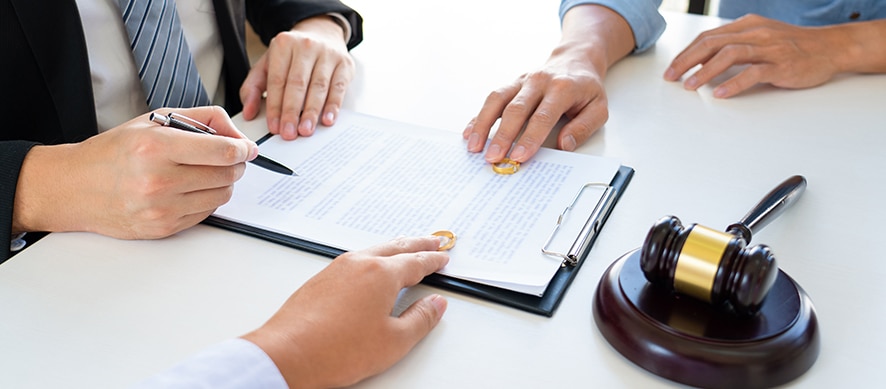 To get started with a default divorce process, you must file a petition for divorce. A legal petition sets the grounds for divorce through a formal divorce request (California is a no-fault divorce state). The spouse who chooses to file for divorce (filing spouse) must then serve the other spouse with a copy of the divorce forms. This outlines the common reasons to end the marriage or domestic partnership.
As part of the California default divorce process, the other spouse (the respondent) has 30 days to submit a response (through a proof of service form) to the divorce petition. In their response, they may outline a variety of reasons that make the divorce contested.
When Does the Divorce Process Become Complex?
The most complex divorce cases comprise issues to do with a contest for the said divorce. This means that the respondent submits a response to the petition regarding the dissolution of marriage. If this happens, it means that the respondent (through their acknowledgment of service) does not agree to all the terms of the divorce that the petitioner included in the divorce petition.
Some of the contested legal issues could include:
Separate property assets
Real property issues
Financial issues
Child custody issues/ parenting time issues
Custody arrangements and residency requirements for minor children
This, therefore, calls for a formal divorce proceeding and basic steps for divorce summons. Here, a family law courthouse conducts a divorce hearing before making the appropriate judgment of divorce. You may even need an attorney for advice in such forms of a divorce action.
An experienced divorce attorney helps in ensuring that everything runs smoothly during the contested divorce. However, it's not always the best choice to hire an attorney due to the high charges you may incur. You can consult A People's Choice instead.
What Does a Simplified Divorce Process Entail?
During a simplified divorce process, both spouses settle at a common ground for divorce. In this form of divorce (uncontested divorce), the respondent does not file a response that could lead to a divorce trial. Their lack of response means that they accept the terms listed in the petition and the California divorce process can proceed without a court-imposed order.
In this situation, either of both parties won't need representation by divorce lawyers. The judge from a family law courthouse has to just sign off on the divorce petition and set the legal grounds to dissolve the marriage.
Before they can finalize the entire divorce process, the parties must reach an agreement through mediation (mediation of custody issues). The parties must agree on various issues such as:
Child custody
Financial disclosures
Declaration of personal property
Disclosure of real estate jointly owned, and
Handling the divorce paperwork
What Are the Steps for Uncontested Divorce in California?
If you plan to have an uncontested divorce, you'll have to:
File a divorce petition, containing your requests for the terms of the divorce, including possession of the marital home and, if applicable, parenting time and property division.
Formally serve your spouse with the divorce papers as per the divorce law
Exchange information with your spouse about each party's assets, income, and debts.
Create and sign a marital settlement agreement. This may entail care for minor children and divorce settlement.
Submit a request to enter a default judgment. You can do at least 31 days after you serve your spouse with the divorce papers.
The court issues a divorce judgment. The judgment specifies the date that your marriage officially ends. The divorce decree (final judgment) will outline the terms of your agreement. It takes place at least six months and one day after you served your spouse with divorce papers.
What If an Uncontested Divorce Does Not Work for You?
The California divorce process can take many different paths apart from the regular divorce trials. Uncontested divorce (collaborative divorce) requires fewer resources and time than a contested divorce. It does not always work for everyone, though. If you and your spouse cannot agree on a proper marital settlement agreement and custodial responsibility, you'll need to argue out your issues in court or through a mediator.
You might need a mediator or lawyer to help you work things out through a step-by-step guide as you address your divorce complaint and other parental responsibilities. Divorce mediation normally seeks to bring both parties towards a neutral ground in their complaint for divorce. You can achieve this through private mediation or with the help of a family law attorney. This won't demand any:
Additional documents
Filing fees, or
Attorney fees.
During the mediation process, an experienced divorce lawyer or a family law judge can play some key role. This mostly happens when the court-connected mediator encounters an unsuccessful mediation. However, divorce lawyers may charge you expensively hence the best option is a legal document assistant.
Do You Need Further Help with the California Divorce Process?
Choosing a legal document assistant to help you get through the California divorce process is a significant cost-savings solution for any type of divorce. This will help you save on time and money incurred in a typical divorce proceeding.
Most couples who get an uncontested divorce do not hire lawyers. This alone makes the California divorce process much less expensive and streamlined due to the low divorce cost. You can finalize the entire divorce process without even a single visit to the courthouse or paying any filing fee.
Contact A People's Choice at 800-747-2780 to get all the documents and self-help divorce books you need for your uncontested divorce professionally prepared.
Was this article helpful? We would love to know your thoughts! If you found this article helpful, please check the LIKE button below. Your feedback helps us plan topics for future articles.