What is a Divorce Paralegal?
The American Bar Association (ABA) defines a divorce paralegal as "a person, qualified by education, training or work experience who is employed or retained by a lawyer, law office, corporation, governmental agency or other entity and who performs specifically delegated substantive legal work for which a lawyer is responsible" (ABA). Commonly, a paralegal may be responsible for conducting legal research on a lawyer's behalf. Additionally, they may draft documents for a law firm, government agency, or another employer. Therefore, a divorce paralegal is an individual who performs delegated legal work for divorce cases. For example, a divorce paralegal may work at a family law firm.
Limitations of Divorce Paralegals
Divorce paralegals are not attorneys, and therefore they cannot provide legal advice or represent you in court. Further, divorce paralegals can complete and file legal paperwork, obtain records, conduct research, and set trial and hearing dates. However, they cannot provide services to the general public without supervision by an attorney. As a result, you will likely have to hire a firm to represent your case to work with a divorce paralegal.
How Does a Legal Document Assistant Compare?
In 1998, California State Senate Bill SB1761 was created to regulate the legal document preparation profession in California. Thus, it created a new title describing individuals who can prepare legal documents for clients WITHOUT an attorney's supervision: legal document assistants (LDAs).
According to state law, LDAs require specific and rigorous qualifications, including:
A baccalaureate degree in any field and either a minimum of one year of law-related experience under the supervision of a licensed attorney, or a minimum of one year of experience, prior to January 1, 1999, providing self-help service;
A certificate of completion from a paralegal program approved by the American Bar Association or that requires successful completion of a minimum of 24 semester units, or the equivalent, in legal specialization courses.
Ultimately, LDAs are experienced and trained professionals who support "self-help" clients handling their own legal matters without the cost of an attorney.
Who Should You Hire to Help With Your Divorce?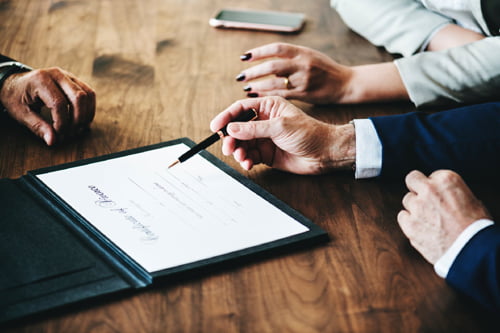 Deciding which type of legal professional will help with your divorce is totally dependent on the circumstances. For example, if you are unable to compromise with your spouse on contested issues, you may need legal advice. In this case, a divorce attorney may be your best bet.
However, if you decide to go the "DIY" route, an LDA may be a great option. Plus, for your California divorce, consider hiring A People's Choice to help with your legal forms. We have over 40 years' experience serving California residents and clients navigating the California legal system. Whether you need help with one legal form or want assistance from a first draft through filing with the court, A People's Choice is here to help.
For non-attorney assistance with your divorce to save thousands of dollars, contact A People's Choice today! Alternatively, start your divorce ASAP with our Quick Start My Divorce Interview! After reviewing your information, we will reach out to you to discuss how we can help make your divorce quick and easy.
Was this article helpful? We would love to know your thoughts! If you found this article helpful, please check the LIKE button below. Your feedback helps us plan topics for future articles.